ANOMAL
A SUPERNATURAL PLAY
HOME | CAST | AUDIENCE REVIEWS | PRESS | CONTACT | SIGN UP | TICKETS
Known as the foremost Israeli specialist in the psychic medium, Ehud Segev was asked to make his first national TV appearance at age 16. Three years later he predicted who would win the race for the mayors' chair in a few cities in Israel . With only a photo to reference, Segev used his psychic abilities to compose a profile on each candidate and foresee the winners – 11 days before the election. Segev was 100% correct. He explained to the press that he used his mental skills to analyze the candidates. That's when people started calling him the Mental Analyzer, or soon to be nicknamed The Mentalizer. The Mentalizer phenomenon quickly spread and Segev has been touring the globe and performed for thousands of awestruck audiences around the world ever since. Minds like Mayor Bloomberg, Saturday Night Live comedian Anna Gasteyer, CNN's Lou Dobbs and many others have been mesmerized by Segev's supernatural performance.

ANOMAL is written and performed by Ehud Segev
directed by Glory Bowen
Original music by Nir Graf
Lighting by James Bedell
Scenic design by Roy Nachum

Special consultants: Asi Wind, Michael Ziegfeld, Yafit Hallely, Eric Walton

Special thank you: Karin Lapidot

Sorry for the many other people that helped and are helping.
We are gathering the information to include your name in the actual program.
ANOMAL plays at the American Theatre of Actors
(314 W 54 th St)
From January 2 – 29
Mon-Fri at 8:00PM
Sat and Sun at 2:00PM and 7:00PM
Tickets are $45-$55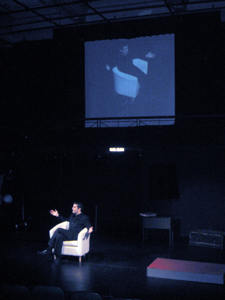 VERY LIMITED ENGAGEMENT!
DUE TO AMAZING DEMAND ANOMAL IS EXTENDED TILL JANUARY 29TH!!!
SEATING IS EXTREMELY LIMITED! ORDER YOUR TIX TODAY!
FOR TICKETS CALL
TheaterMania (212) 352-3101

or click here
All rights reserved © 2005-2007
For more information about the new Broadway musical LEGEND OF THE 21ST CENTURY Click Here
For more information about world renowned mentalist Ehud Segev The Mentalizer click here